Design a Book Jacket Competition 2021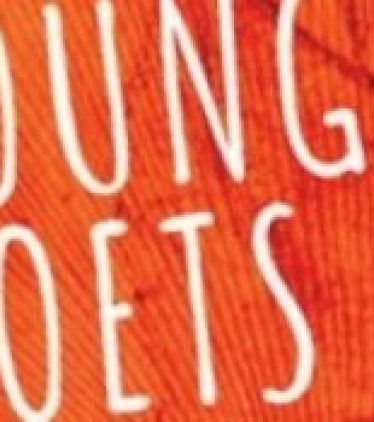 Design a Book Jacket and WIN £400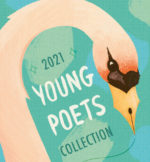 Our 2021 Winner!
Joana Dionisio
Illustration Graduate from the University of Hertfordshire
Congratulations - and we can't wait to feature her beautiful image on the cover of the Young Poets Collection out in May.
Our 2021 Shortlist!

Stephanie Anjo
Anna Bale
Grace Barnes
Laura Coutinho
Ruth King
Matthew Holland
Dan Jackson
Lucy Jackson
Megan Langley
Hanna Matthews
Bertie Simpson
Jose Vazquez

Thank you to everyone who entered the competition and we are very sorry if you didn't win or haven't been shortlisted. The standard was very high and we have had to make difficult choices.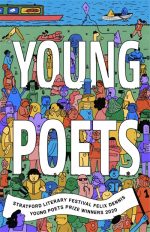 OUR 2020 WINNER!
AMY HIGGINS was the winner of the 2020 jacket competition. We loved her bright, detailed and very professional design. Amy is 27 and a student of the MA Authorial Illustration course at Falmouth University.
'The design team here at Profile Books loved Amy's entry, and it stood out straight from the start. It is smart and well considered, with a great attention to detail rewarding inspection and allowing the viewer to spot something new each time. The illustration is charming and approachable and works great for the target age range of the book. The typography is also clean yet impactful and Amy has done a great job to ensure it balances with the illustration. We look forward to welcoming Amy and working with her as an intern sometime in the near future.' Steve Panton, Design Director, Profile Books
Could you be our 2021 Winner?
The Book Jacket Competition is open to all students of design, graphic design, photography or art (or related courses) currently studying in the UK, who are 18 years or over on 5th March 2021.
First Prize includes the opportunity to work with Independent publisher Little Toller on their publication The Clearing responding to briefs to illustrate submissions to the magazine.
How to enter
The Stratford Literary Festival is holding The L&Q Felix Dennis Young Poets Prize 2021, and the winning entries will appear in a Festival Collection book on sale in Waterstones Stratford-upon-Avon and on the Festival website.
Students are invited to design the jacket of the book – a great opportunity to add a project to your portfolio to demonstrate your skills, and to show to colleges and universities you are applying to, or to future employers.
Please read the instructions below carefully as your design needs to be suitable for print and there are specific guidelines that we need to follow.
Deadline
The final design must be submitted here as a low res pdf (no larger than 8MB) by 5.30pm Friday 5th March 2021
You entry must include your name, address, age and place where you are studying. Please include your name in the file name also.
The Brief
Audience for the book: All age groups
Tone: The book will feature the winning poems by people aged 5 to 21 who have entered our competition. This is an annual event and the book will be published by 8th May 2021. We are looking at a jacket design that is colourful, lively and sharp and that shows a unique and interesting execution. This might be interpreted in any way you choose. There is no particular need for it to relate to Stratford – though working this in might be a nice touch to reflect the location of the Festival. The book needs to quickly communicate the message of what it is as it will be on sale in Waterstones during and after the Festival. Take time to look at covers in a bookshop that catch your eye and ask yourself why they do.
The following must be included in your design:
Dimensions:
235mm high x 155mm wide for the Front and 235mm high x 155mm wide for the Back. Allow 10mm for the spine. The book title and Festival Swan logo will need to feature on the spine.
Book Title:
Young Poets Collection 2021
Sub-title to appear on the front of the jacket:
Stratford Literary Festival L&Q Felix Dennis Young Poets Prize Winners 2021
Back Cover:
Leave room for 8 lines of blurb about the book contents.
Leave 45mm w x 30mm space at the bottom of the reverse of the cover for the ISBN (bar code) graphic and 45mm w x 50mm high for our logo.
You need to also include the following:
www.stratlitfest.co.uk
Cover designed by: xxxxxxxxxxxxxxxxxxxxxx
UK £9.99
IMPORTANT:
The winning entry will need to supply all fonts and images (at 300dpi) and the artwork as an InDesign or Illustrator File.
Any questions about entry can be emailed to us here.
The Small Print:
The Judges decision is final and no correspondence will be entered into.
All entries must be in English, original and must not have been published or have won competitions elsewhere. Stratford Literary Festival reserves the right to use the winning image when and where it deems suitable, though the copyright remains with the artists/photographer. The winning cover may be used by the copyright holder in a portfolio to publicise the prize but cannot be used for commercial purposes elsewhere without the permission of the Stratford Literary Festival.
All entries must follow the guidelines above. Any entries that do not will not be considered. We accept only one submission per entry. All entries must include your name, address, age on 5th March 2021 and place of study. The winning entrant may be asked to make reasonable amendments to their entry and the Stratford Literary Festival reserves the right to make amendments to final artwork as it sees fit.
The competition is open to students aged 18 and over currently enrolled on a course in the UK.
Entries must directly reflect that it is an anthology of poetry.
Entries will not be accepted after the closing date.
Writers will be notified before the launch of the Festival on 8th May 2021. The winning entry will appear as the jacket on a Festival book which will be on sale at Waterstones Stratford-upon-Avon from 8th May 2021 and online through our website.
The First Prize includes the opportunity to work with Independent publisher Little Toller on their publication The Clearing responding to briefs to illustrate two submissions to the magazine. This work will be unpaid and will take place remotely, because of current restrictions, but under the guidance of Little Toller.
By entering and supplying your email address you are allowing us to notify you about the Stratford Literary Festival. Your information will not be shared with any third parties.
About L&Q
L&Q say: 'At L&Q we believe passionately that people's health, security and happiness depend on where they live. We house around 250,000 people in more than 105,000 homes, primarily across London and the South East – but we're more than just a registered charitable housing association. We create better places to live by delivering high quality homes, neighbourhoods and housing services that people can afford. With nearly 60 years' experience, we have what it takes to do things right and provide long-term support to our communities where they need it. To find out more about our homes in Warwickshire, please visit us here.'
Felix Dennis was a publisher, poet and planter of trees, and a great supporter of the Festival. He died in 2014. His Executors are supporting the competition in his memory to encourage writers and poets.
2020 Runners-Up:
Daniel Converio, 2nd Year BA Illustration Falmouth University
Lucy Llorente, Illustration Animation, Kingston University
Anne Roos, studying for the MA in Children's Book Illustration at Anglia Ruskin University
Xin Guo, Kingston University
WINNER of the 2019 Book Jacket Design Prize
Florine Delasalle - MA in Illustration and Book Art at Anglia Ruskin University, Cambridge.
I have a lot to thank you for! I had a brilliant time on the placement and whilst I was there one of the girl's who works in the art department told me about the Design Assistant role for Penguin Random House Children's. Working in children's publishing has been an aspiration of mine whilst at University so it was great timing and I am over the moon to be offered the job. The Young Poets book cover was also a good talking point at the interviews. Thanks so much for the opportunity the Stratford Literary Festival gave me!
Sophia Watts, Winner 2018
The experience was absolutely vital in further understanding the industry. It gave me an invaluable insight into what is important in commercial book cover design. I got an idea of the whole process - not just the art department. If you make the most of your time and take everything on board you will create something to be proud of.