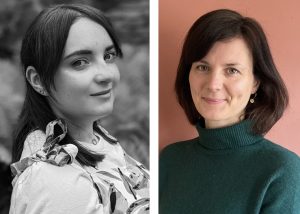 Sarah Marsh and Amy Twigg
Tinder Press Debuts' Proof Party
We've teamed up with our friends at Headline Publishing to host an event with two of their most exciting new novelists, in-conversation with their editors about their upcoming debut books. For a first-look at advance copies of both author's books, come along for an insider-evening with Tinder Press.
Giveaway: To celebrate 10 years of Tinder Press, tickets holders will also be in with a chance of winning two enormous stacks of books on the night!
A Sign of Her Own is the debut novel from the Lucy Cavendish Prize shortlisted author Sarah Marsh. Feminist, intelligent and seductively imaginative, this story sheds light on the largely untold history of the role of the deaf community in Alexander Bell's evolution of the telephone. 'Beautifully written and illuminating... Excellently conveys the experience of being deaf in a hearing world' Priscilla Morris, Women's Prize Shortlisted author of Black Butterflies'A fantastic novel. 'Shines a light into a hidden corner of history' Louise Hare author of This Lovely City and Miss Aldridge Regrets
Spoilt Creatures by Amy Twigg is a dark, riveting literary debut about cults, transgression and female rage. Over the course of a blistering summer, Iris throws herself into an alternative way of life, seizing on new experiences and hidden desires. Until a group of men arrive at the rural commune, and everything is thrown into question...'A simmering debut, heady with the possibilities of language and the righteousness of female rage' Kiran Millwood Hargrave, author of The Mercies

'Emma Cline's The Girls meets Lord of the Flies . . . compelling, cultish and utterly feral' Alice Slater, author of Death of a Bookseller
Access:
This event will be live-captioned and BSL interpreted. Sarah Marsh is a deaf author who writes about this experience in her fiction, and would like to encourage any interested d/Deaf readers to join us for the evening.