Work with us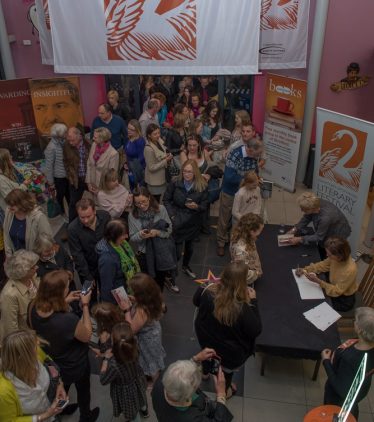 See below for opportunities to be involved with the Festival.
Fundraising Trustee (Voluntary)

Stratford Literary Festival is looking to recruit a new Fundraising Trustee (Voluntary) to its Board. Applicants will use their experience of growing income and public relations to inspire support for the Festival, a charity and non-profit organisation based in Stratford-upon-Avon.
The Festival was established in 2008 and became a charity in 2015. As well as running live book-related events in spring and autumn, we also offer year-round outreach work in schools, prisons and the community, promoting the benefits of reading and writing on life chances, well-being and literacy.

The Fundraising Trustee will:
• Bring a fresh perspective to fundraising plans and strategy
• Strategically assess where fundraising fits into the overall organisation strategy and with other Trustees and to ensure effective income generation is being achieved
• Contribute knowledge of fundraising techniques and strategies
• Network on behalf of the charity to solicit funds on a peer-to-peer basis
• Be an active champion of the organisation
• Build relationships with potential corporate partners, high net-worth individuals and other key influencers to secure sponsorship and grants

As a Trustee you will play an important wider role in bringing together the different parts of the charity into a shared approach. This means developing a long-term strategic approach looking three, five or ten years ahead.

This is a voluntary role. There is a minimum of 4 meetings per year which take place in Stratford-upon-Avon.

The Stratford Literary Festival is an equal opportunities employer and seeks to be fully representative of the population and communities it serves in its governance and operations.

You should possess attributes, skills/experience in the following areas:
• Fundraising for a charitable or non-governmental non-profit organisation:
• A commitment to the charity's aims, objectives and values
• Fundraising/income-generation knowledge
• An understanding and acceptance of the legal duties, responsibilities and liabilities of trusteeship
• A willingness to devote the necessary time and effort to the responsibilities of a Trustee
• An understanding of the UK charity sector, good governance, Charity Commission requirements, relevant legislation and statutory requirements
• An understanding of the challenges facing small UK charities in maximising income streams and donor cultivation
• Experience of diverse fundraising practices, including statutory funds, corporate and philanthropic giving would be advantageous
• Excellent networking skills, influencing and communication skills
• Knowledge of the voluntary sector

If you are interested in joining our enthusiastic and committed team, please send your CV to us here

Volunteer Stewards

We have a fantastic team of volunteer stewards in place but if you'd like to be put on our back-up list please contact us here.
We'd also love to hear from anyone happy to distribute programmes for us before the Festival.