Schools and Education Programme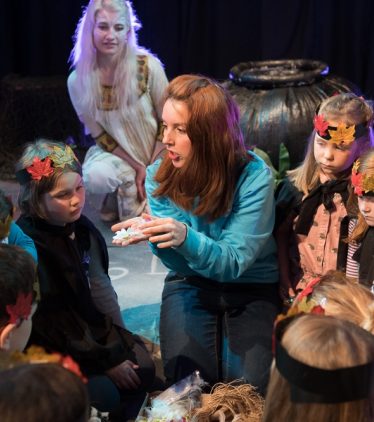 We believe that books, reading and writing can have an immensely positive impact on education, literacy, well being and positive life outcomes. And you can't start too young! Which is why we deliver an extensive selection of events and workshops for schools and young people in primary and secondary schools throughout the region, and over the last 12 years have featured some of the UK's leading authors and illustrators in a series of hugely entertaining and engaging events.

The Stratford Literary Festival has such a fun, fresh and creative approach to school events.
Our Schools Week Programme includes:
Authors, illustrators and creative writing workshops for all age groups
Visits to your school so no need for transport costs and risk assessments
Advance copies of the visiting author's book sent to you FREE of charge to help you prepare
Signed copies for the children to buy, and we'll supply a letter for parents to send out in advance about the event
Our Annual Creative Writing Workshop - Each year we run creative writing workshops for young people. Our workshop author in 2020 will be Tony Bradman.
If you'd like your school to be involved and to book an event for 2020 please call 01789 470185 or email us here.
Download our 2020 programme here!

What they say about our events:
'I would like to share with you how successful the author visits were! In a nutshell, they were truly inspirational and all our pupils had an amazing, fun-filled and engaging session! The engagement was palpable and our staff were so impressed by how the authors connected to their audiences. Truly magical'
Suzanne Holmes, The Kingsley School
'Thank you for coming to school with Frank Cottrell-Boyce. It was brilliant. The children were still talking about it during the afternoon and we couldn't get them to put their books down!'
Nicki Campbell, Wellesbourne Primary School
'Thank you for a fantastic workshop. Chris Edge was so inspiring, one of the best, and our students got so much out of their afternoon.'
Elizabeth Bremner-Smith, Alcester Grammar School
'Tanya Landman was brilliant. Staff and students really enjoyed the event.'
Sam Arshad, Higham Lane School, Nuneaton
'Thank you very much it's lovely that you involve the children so much.'
Parent, Year 2
'Our students have been really inspired, it was invaluable to their creative development.'
Alexandra Donnelly, Kingsley School
'Philip Ardagh's visit gave me incredible inspiration and I have been able to apply his techniques to my own work.'
Esmee Year 6
'Korky Paul's visit was the best visit ever. He painted 2 pictures for us which are fandabidosi and inspired us to create pictures of our own in his style.'
Elena age 9 and Charles age 7
'Shottery Primary has had the pleasure of participating in the Literary Festival for a number of years and eagerly awaits the programme of schools' events. Pupils have delighted in seeing and hearing stories brought alive by their authors and illustrators been enthralled by the workshops which have inspired them to experiment with similar techniques for themselves.'
Sarah Marshall, Headteacher, Shottery St Andrew's CE Primary
'Having the opportunity to meet authors is both aspirational and inspirational. Kingsley girls, and pupils from other local schools who have joined us for our events, have benefited greatly from the experience. As a school we are delighted to support the Stratford Literary Festival.'
Heather Owens, Head Teacher, The Kingsley School