Become a Festival Sponsor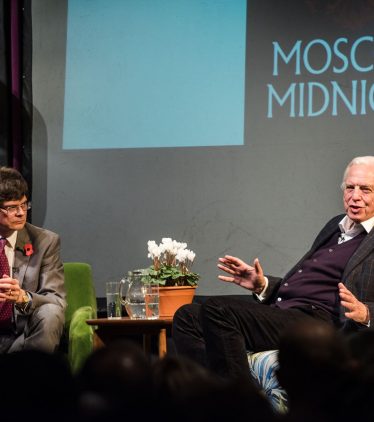 Since 2008, the Stratford Literary Festival has brought together top authors and influencers, thinkers and opinion-formers, as well as young talent, providing a programming mix that offers the weight and authority of established writers with the passion and enthusiasm of those whose names are just beginning to be known.
And bigger and more successful than ever, we're looking forward to the years ahead.
We can offer an exciting opportunity for your brand to be part of something great; something which is both at the heart of the community and a major event in the entire region.
Why link your organisation to Stratford Literary Festival?
Brand association with a leading national literary festival
Association with the location and creativity of the Stratford Literary Festival
Affiliation to leading opinions formers, thinkers and celebrities
Access to an intelligent and affluent audience in a non hard-sell environment
Inclusion in marketing communications both in print and on-line
Presence in the programme and on our website
Complimentary tickets for client and staff hospitality and the chance to meet celebrity authors
Access to your market with flyers and advertising material
Unique way to entertain clients
Help to meet your CSR targets by supporting our community and education outreach work
Packages Available:
Lead Sponsorship
Partner Sponsorship
Venue sponsorship
Programme advertiser
To find out how to link your brand with ours, email us here.
What our sponsors say...
We recently increased our sponsorship to become the headline sponsor of the Stratford Literary Festival. The organisers are proactive and efficient, and considerate of all their sponsors. The organisation of the Festival is impressive, with all our events well attended and properly branded. I'm looking forward to continuing our support of the festival.' Michelle McLeod, Sponsorship Manager
Baillie Gifford Investment Managers
It is always a delight to be part of such a wonderful, local event. The literary history of Stratford-upon-Avon is treasured by all and celebrating this with such a well organised and enjoyable festival is certainly a calendar highlight to us. It even inspired one of our recent designs – the Author table lamp, which was featured at the Stratford Literary Festival in 2018.
Nicola McGuirk, Managing Director, David Hunt Lighting
At Lodders we are committed to the wider community and anything that encourages reading and learning, so we are pleased to sponsor events. The Festival team always puts forward an inspiring and interesting programme.
Hollie Coyne, Marketing Coordinator Lodders Solicitors
NFU Mutual has been part of the rural community in Stratford Upon Avon for over a century and has been proud to be involved with the Literary Festival over the last few years.